NBA All-Star Festivities for the Whole Family This Weekend –
5 min read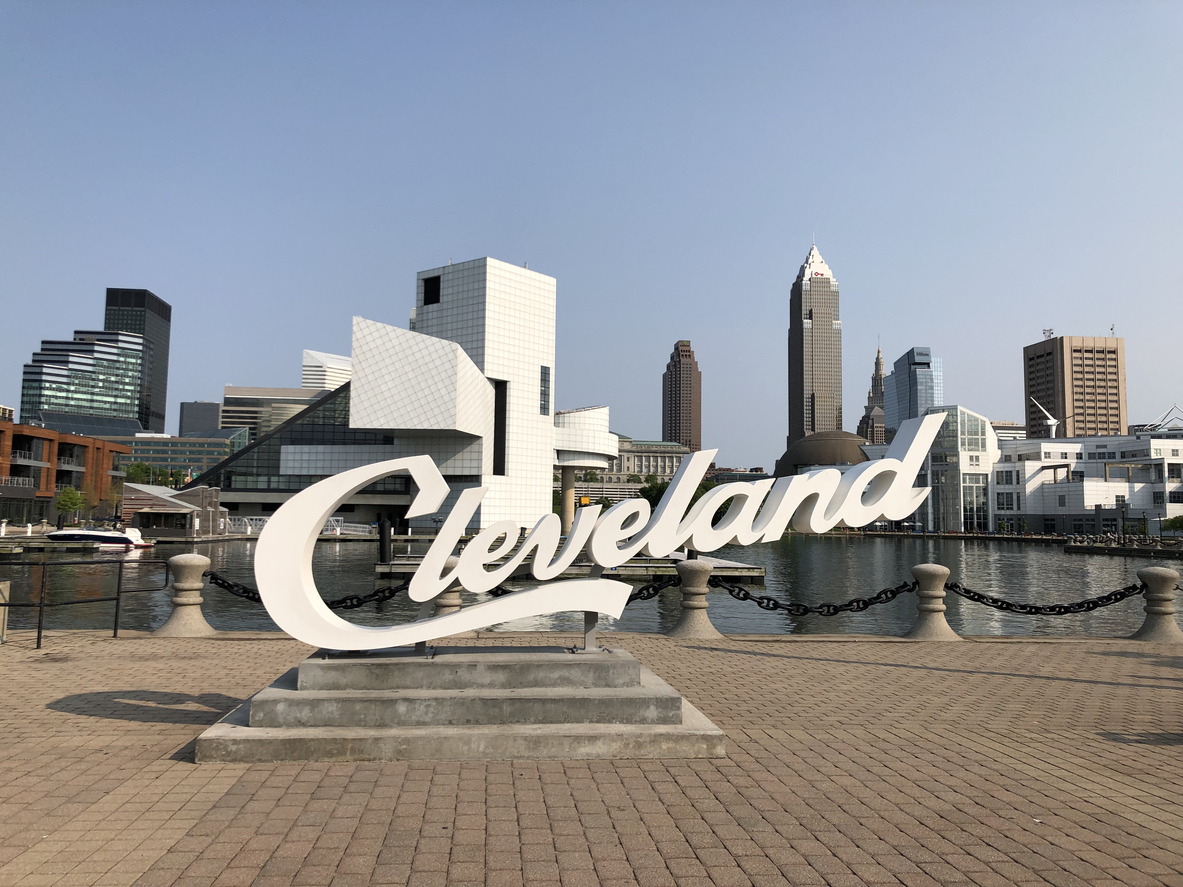 NBA All-Star Festivities for the Whole Family This Weekend
Now that the 2022 NBA All-Star festivities are upon us, residents and visitors alike will have plenty of opportunities to experience the fun and excitement of the weekend across the city. Downtown Cleveland Alliance shares a variety of events — from dining and retail to arts, entertainment and more!
NBA Ice Buckets Court
Local and visiting basketball fans and sports enthusiasts are invited to shoot their shot at the NBA Ice Buckets Court pop-up at Tower City. Compete in a buzzer-beating game for the chance to win NBA prizes. Register to play for free on the NBA Events App.
Tower City, Skylight Concourse: 230 W. Huron Rd., Cleveland.
Friday, Feb. 18, and Saturday, Feb. 19: 11 a.m. – 7 p.m., Sunday, Feb. 20: Noon – 5 p.m.
5th Street Flea Vendor Pop-Up
The perfect way to support Cleveland's small business community, 5th Street Flea will host a pop-up vendor event inside the 5th Street Arcades from Friday to Sunday from 11 a.m. – 6 p.m. Shoppers can also visit local storefronts within the 5th Street Arcades.
5th Street Arcades: 530 Euclid Ave., Cleveland.
Friday, Feb. 18, through Sunday, Feb. 20: 11 a.m. – 6 p.m.
Rock & Roll Hall of Fame: Baseline to Bassline Exhibit
The Rock Hall's newest exhibit, opening Feb. 17, explores the connection between music and basketball. Baseline to Bassline highlights the cultural impact of the sport and features artifacts worn by musicians at NBA events. Fans can also get pumped for the All-Star Game with a Spotify playlist featuring some players' favorite pre-game tunes.
Rock Hall: 1100 E. 9th St., Cleveland.
Open 10 a.m. – 5 p.m. Thursday, Feb. 17 through Monday, Feb. 21.
Advance tickets required; available online.
Hank Willis Thomas: The New Black Aesthetic
As part of the celebration of the NBA's 75th anniversary, Brooklyn-based artist Hank Willis Thomas will bring a special exhibit to Cleveland for All-Star Weekend. Inspired by quilt traditions from African American history, "The New Black Aesthetic" features mixed-media works depicting NBA legends and jerseys and will be on display at the Caxton Building from Feb. 17 through 20.
Caxton Building: 812 Huron Rd. E., Cleveland.
Feb. 17 through 20: 11 a.m. – 8 p.m.
Free admission.
 Xbox 2K22 Tournament, Watch Party & Family Fun Day
Families looking to get in on the All-Star excitement on Saturday can head to Great Lakes Science Center for a basketball-centric family event. Gamers can play like an All-Star during the Xbox NBA 2K22 tournament; families can enjoy classic basketball arcade games from the '80s, '90s and 2000s; and all attendees can show their skills during a virtual reality basketball competition. It all culminates with a watch party for the Saturday night All-Star events.
Great Lakes Science Center: 601 Erieside Ave., Cleveland.
Saturday, Feb. 19: 6-10 p.m.
Tournament admission and event tickets ($35-$75, kids under 10 free) available online.
Cleveland All-Star Fitness Expo
Take a break to focus on fitness during Saturday morning's All-Star Fitness Expo, hosted by Cleveland Browns cornerback Denzel Ward's 'Make Them Know Your Name' Foundation. The event at FirstEnergy Stadium's 7Up City Club will feature a wide array of workout sessions, from yoga to cardio boxing, along with dance battles, musical performances, vendors, celebrity appearances and giveaways.
FirstEnergy Stadium, 100 Alfred Lerner Way, Cleveland.
Saturday, Feb. 19: 9 a.m. – 1 p.m.
General admission tickets $30, celebrity access tickets including autographs and photo ops $75-$100; available online.
ListenCLE Street Performances
Music will fill the air in Downtown Cleveland over All-Star Weekend, thanks to a street performance series coordinated by ListenCLE. Live music and art demonstrations will take place at Star Plaza near the Playhouse Square Chandelier as well as at the Cleveland Visitors Center throughout the weekend. Performances will be free, but tipping is encouraged.
Star Plaza: E. 14th Street & Euclid Ave., and Cleveland Visitors Center: 334 Euclid Ave.
Full performance schedule available online.
Uniquely CLE Tours
All-Star Weekend is the perfect opportunity for visitors and residents alike to brush up on their Cleveland history or learn more about what makes the city unique. An Ohio City food tour with Relish Cleveland will offer attendees a taste of Cleveland's culinary scene with stops at five local eateries, including the historic West Side Market, while they learn about the history of the market, the Ohio City Farm and other unique neighborhood spots. A Downtown Highlights Walking Tour is a great way to experience Downtown Cleveland, as tour guides lead attendees from Public Square to Playhouse Square, sharing the history of the city, the buildings and some of Cleveland's most famous residents along the way.
Ohio City Food Tour: Saturday and Sunday, 1 p.m. Tickets ($50-$87) available online.
Downtown Highlights Walking Tour: Various times throughout the weekend (Thursday through Sunday). Tickets ($24) available online.
Tower City All-Star Events & Dining
Tower City Food Hall will offer a variety of pop-up food and beverage (and retail!) options during All-Star Weekend. Guests will enjoy: 2 You Wines, Lonnie's Boy Soul Cookin', MODbites by Nuevo, Ninja City Kitchen & Bar, Squash the Beef, Vitiman Kandie, Yum Village, Peace, Love & Little Donuts, Pearl Flower Catering, Heights Soul Food & Grill, Shell Shock'd Tacos, Kohcoa Shop, Andreas Dekar Wines, The Lemon Lady and Living Rich apparel.
Tower City Center, 230 W. Huron Rd., Cleveland.
Thursday, Feb. 17, through Sunday, Feb. 20: 11 a.m. – 8 p.m.
Calling all kids! Tower City presents fun, family-friendly programming on Saturday and Sunday. Bring the whole family for games, hype squad characters, crafting, face painting and more!
Tower City Center, 230 W. Huron Rd., Cleveland.
Saturday, Feb. 19, through Sunday, Feb. 20: Noon – 6 p.m.
The Real Black Friday's Blk Biz Expo: All-Star Edition
On Saturday, February 19, from 10 a.m. – 6 p.m., support 100+ participating local Black businesses and entrepreneurs at LaRese Purnell's seventh annual Black Business Expo with live music, special guests and performances, a fashion show and more.
Tower City Center, Skylight Concourse: 230 W. Huron Rd., Cleveland.
Saturday, Feb. 19: 10 a.m. – 6 p.m.
A complete schedule of events is available online.
Greater Cleveland Regional Transit Authority All-Star Trolley
Hop on and off the RTA's All-Star Trolleys, decked out and available to take riders to and from NBA All-Star festivities across the city center.
For a complete listing of all things NBA All-Star, visit CLEcourt.com
All attendees are required to comply with local health department and CDC guidelines. Guests are also encouraged to check with individual event coordinators and venues regarding their specific guidelines.