Internet Falls in Love With Brain Damaged Dog Who Does Somersaults
4 min read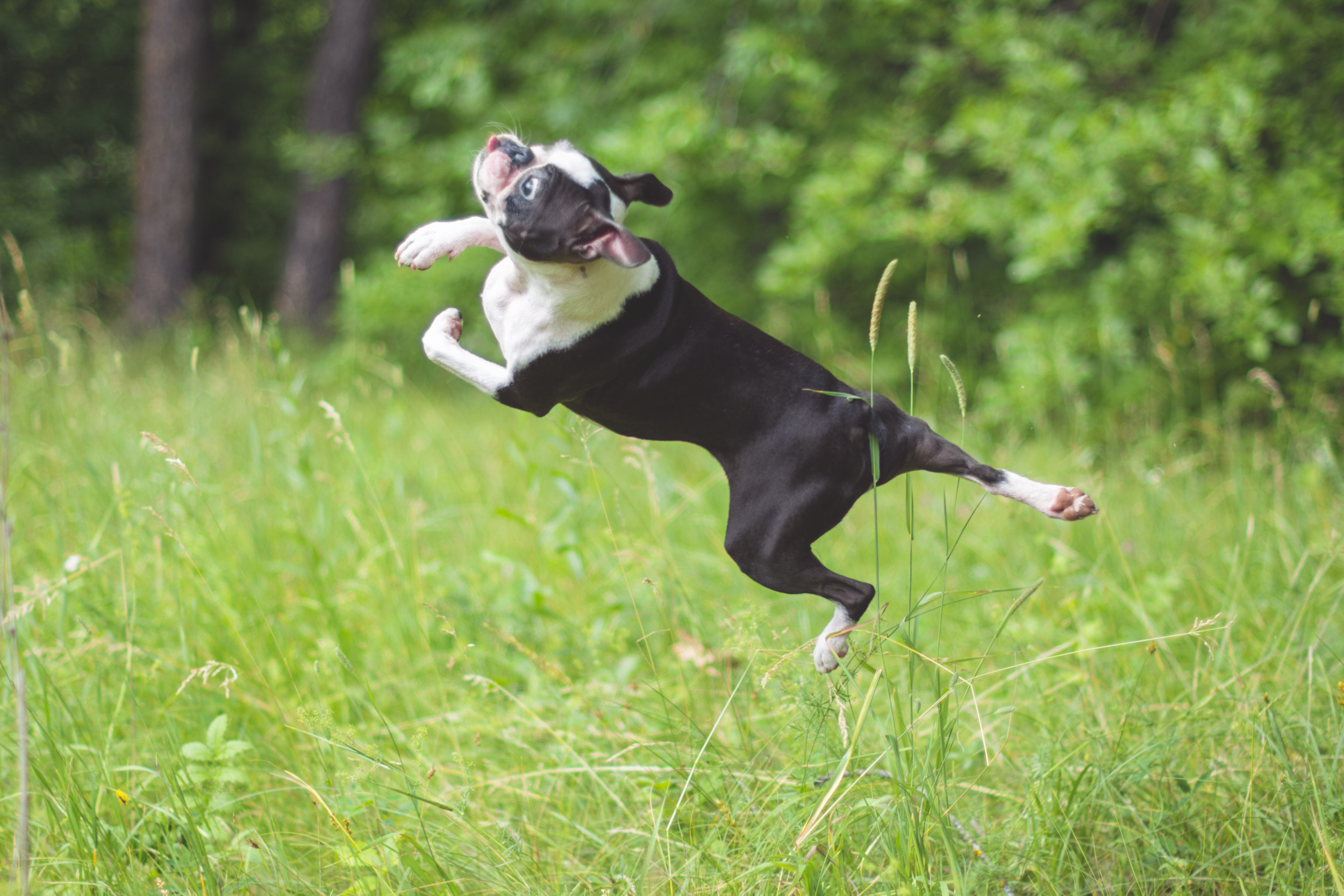 An adorable puppy who was surrendered to a shelter with a severe condition resulting in brain damage has captured the hearts of millions due to his unique somersaulting.
Sampson was handed over to Good Sprout Rescue and Sanctuary, in Ohio, when he was only a few weeks old, and suffering from a "severe brain infection."
The sanctuary's TikTok account, @goodsproutrescue, thought to be run by Audrey Quillin, has been posting heartwarming clips of Sampson, as he recovered.
A clip shared to the social media site last month has been watched more than 27 million times, and shows the pup doing flips on a bed.
The on-screen caption explains: "This is Sampson. Sampson suffered a serious brain infection at only 5 weeks of age due to the horrible conditions his breeder kept him in.
"He survived the infection, but the left side of his brain was permanently damaged, making him a bit… different. One strange thing he does is somersault."
In the comments, it was confirmed: "Sampson is under the care of a board-certified neurologist. He cannot control his somersaulting, but it does not hurt him." The clip can be seen here.
On her own Instagram account, Quillin went into further detail about Sampson's condition when he arrived, revealing the puppy was originally called Joshua.
She wrote: "Joshua was surrendered to us by his breeders because he was not growing like the rest of his siblings and had a large, squishy head. Joshua is four weeks old and is at the hospital right now fighting for his life.
"His head is swollen with infection to the point it is too heavy for him to lift. He is being literally eaten alive by parasites, vomiting worms, and extremely weak. Despite all of this, Joshua is fighting. He survived the night at the hospital where he received antibiotics, IV nutrition, a blood transfusion, and had his abscess drained.
"Things are still very tough and go, but his blood work is slowly improving. His medical bill is approaching $2500, but as long as Joshua wants to fight we will fight with him. Please keep him in your thoughts today."
After he was strong enough to undergo a procedure, he had the fluid drained and a stent fitted in to ensure any remaining liquid was removed.
Eventually, it was taken out, as Quillin reported he was "getting stronger every day." She updated fans in September, posting: "Sampson was surrendered to us by his breeders at five weeks old with a severe brain infection. He fought so hard to survive, and is now four months old and thriving! He definitely has some challenges, but with proper accommodations and lots of love is able to live an (almost) completely normal life."
Following the outpouring of love and support for the mutt, the official Facebook page for Good Sprout Rescue revealed he would be staying permanently in a post shared earlier this month.
It said: "I would like to take a moment to publicly thank everyone so, so much for the outpouring of love and support for our sweet Sampson! I have just been completely blown away by it all, and honestly the shock hasn't worn off (I'm not sure if it ever will ) I have received thousands of messages expressing love and well-wishes for our boy. It truly means the world to me that so many of you love and care for him as much as we do!
"This is as good a time as any to announce that Sampson will be staying with us as a permanent sanctuary resident. He has completely stolen our hearts, and with his complex medical and behavioral needs we feel that keeping him in sanctuary is the best way to give him the happiest, healthiest, most enriching life possible.
"Watching him fight so hard to survive as a tiny, malnourished puppy with the big, squishy head and seeing where he is now… it feels like a dream. The best dream. Thank you from the bottom of my heart for loving him, for your kind messages, for your donations, for your support. This entire experience has been so incredible, and it is thanks to all of you. Thank you."
In the comments of the viral video, Quillin updated followers with the case against his previous owners.
"A cruelty case is pending against them. We are working closely with local humane agent to shut them down for the good," she said.
Despite his quirks, Sampson has stolen the hearts of so many online, with Kay commenting: "Not being dramatic, but I would die for summersampson."
"He somersaulted right into my heart," Bexter the Balancing Dog raved.
Joh asked: "So you're telling me a dog can somersault but I can't."
Whale Gr8fldead added: "This is quite literally the most precious thing I have seen today."
And certified account We Rate Dogs said: "Don't worry Sampson we love different. 14/10."
Newsweek reached out to Quillin and Good Sprout Rescue for comment.
https://www.newsweek.com/internet-falls-love-brain-damaged-dog-who-does-somersaults-1639000