Danville Science Center hosts Old 97 Rail Days | News
3 min read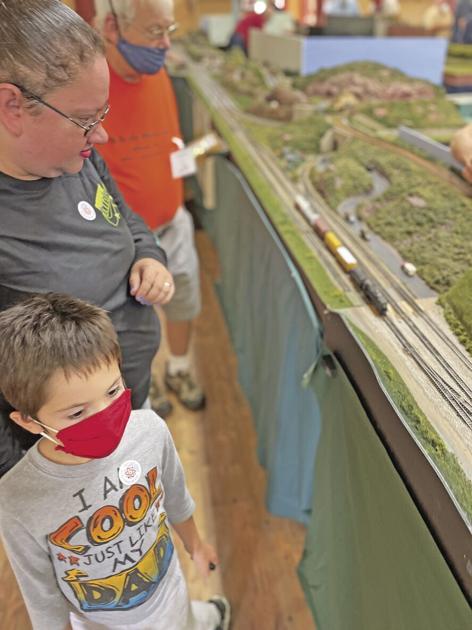 DANVILLE, Va. — On Saturday, Sept. 25, Danville Science Center hosted its annual Old 97 Rail Days event.
Railroader clubs from all over come to help set up train models that wowed those that came to enjoy the event.
John Wallis, NRails president, spearheaded the event. He is what's considered the superintendent of this year's event, but he wanted to be clear that his responsibility rotates among the railroader clubs. He noted that the reasoning for the event is in remembrance of the wreck of the old 97, a historic train accident involving a southbound fast mail train which derailed near Danville in 1903.
"119 years ago, the Old 97 crashed," Wallis said. "We did this show the first time on the [Old 97's] hundredth anniversary. We've been coming back every year, except for last year."
Wallis and the other train enthusiast organizing the event wish to showcase their interest to the community.
"There are about 35 of us, of the modern railroaders here," Wallis said. "We're hoping to bring the community, the kids, interest in trains. Plus, we have fun running the trains."
One of the event goers, Jessamyn Rubio, brought her family to enjoy the train models
"I've got my two boys. My youngest was very excited," Rubio said. "My older son even brought his friend along today."
Rubio and her family have had a history with Danville's Science Center's Rail Days.
"We have come in the past and then got the reminder on Facebook," she said. "We're excited be here today."
Showing his enthusiasm for trains with his exclamation of, "Tunnels!," young Brandon Rubio seemed to have the flame of his interest stoked by the well-made models put together by the train enthusiast participating in the museum's Rail Days event.
Danville resident Justine D. with a little influence from her parents, brought her family as well.
"What brings us here is my dad. He's really into trains," she said.
While not initially having an interest in trains, Justine is still enjoying herself and the train models.
"This is really neat. It's amazing to look at how they're able to make it come to life," she said. "I'm glad we have the boys here today. It's something different for them to look at."
What the railroaders have put on for the community has really impressed Justine.
"It's really neat to see someone else's hobby from another perspective," she said. "I'm not a train fanatic, but I'm impressed to see the time they put into these models to really make them look realistic for the public."
As the event continued, several other families could be seen finding bits of joy here and there while looking at the train models constructed in remembrance of the Old 97.
https://www.chathamstartribune.com/news/article_5ee47824-20c1-11ec-b253-7b1f4402ffbc.html